Portraits of Writers by Sarah Hunter is currently on display at the Oakwood Village Library and Arts Centre until May 31st.
ARTIST STATEMENT

I began my series of portraits of artists about 10 years ago. I wanted to start to represent some of the great artists that had inspired me along the road to becoming an artist myself. As I delved into this exploration it became obvious to me that many of the artists that had inspired me were writers. I had always loved books as a child and was a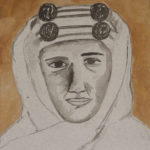 prodigious reader. If I was interested in an author I would often try to read everything they had written or as much of their body of work as I could manage to find.  Some of the first portraits I created were of legendary artists that had inspired me. They included images of Dickens, James Joyce, Katherine Mansfield, Daphne du Maurier and E.M Forester.
Then I realized it would be interesting to do an ongoing series of queer artists that had inspired me over the years including writers, painters, composers, singers and dancers.
I feel that many the figures in the queer artist series were important models for me growing up as a young gay artist. I was inspired by their amazing contributions to our society. As a gay person this was very significant for me as I had not had this kind of overt role model growing up as a teenager.
The portraits in this collection of work represent an overview of this ongoing series of artists that have inspired me. The portrait of Dickens and the Image of Giacometti are earlier works and the more recent ones include T.E. Lawrence (Lawrence of Arabia), Eudora Welty, Isak Dinesen, and Marcel Proust.
To purchase works or to see more from her portraits collection: click here.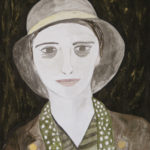 Portraits of Writers
by Sarah Hunter
May 01-31, 2018
Oakwood Village Library and Arts Centre