Welcome to Turtl Art:
The Website of Sarah Hunter
Visual Artist. Expressionist. Teacher.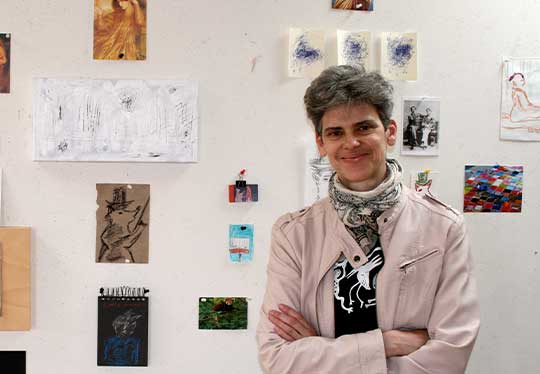 Meet Sarah Hunter
I am a visual artist who is based in Toronto, Canada. In my work, I explore the mystical, magical, and uncomfortable aspects of our existence in the natural world and how we respond to the elements we encounter. I do this through images of the human, animal and natural world.
Original Paintings – Artwork for Sale
I have three bodies of work that are ongoing. A portrait series that are primarily images of artists that have inspired me, animal drawings, and paintings inspired by film. My artwork is often expressionistic in nature and reflects the inner landscape rather than outer reality.
About My Work
I create pieces that reflect a coming together of many archetypes and scenarios in life, both real and imagined. These include images that explore masculine/feminine, gender roles, icons, gods and goddesses, childhood, imaginary landscapes and the role of the divine in our lives.
I am inspired by the diversity and interconnectedness of all that exists in the natural world and our need as humans to connect more deeply with that experience.
Additional Services
I also design t-shirts, tattoos, posters and brochures for various events, and I have conducted workshops at yoga studios and museums. Additionally, I teach privately to individuals and small groups in my studio.