The Artist Behind Turtl Art
Seeker. Educator. Torontonian.
Sarah Hunter knew she wanted to be an artist by the age of 10 years old. She studied art through high school and completed her grade 12 at Woodstock International school in Mussoorie, Uttar Pradesh, India, where she received a special visual arts award.
She then went on to complete a Bachelor of Fine Arts at Sarah Lawrence College in Bronxville N.Y. just outside of New York City, where she studied Painting, Sculpture, Photography and Ceramics. Sarah returned to Toronto to do a post-graduate degree in Arts Education at the University of Toronto. She continued her studies in visual arts at the Toronto School of Art.
Since graduating from U of T she has been a practicing artist and arts educator for the last 20 years.
Artist Statement
I am a visual artist who is based in Toronto, Canada.
In my work, I explore the mystical, magical, and uncomfortable aspects of our existence in the natural world, and how we respond to the elements we encounter. I do this through images of the human, animal and natural world.
I have three bodies of work that are ongoing. A portrait series that are primarily images of artists that have inspired me, Animal drawings, and paintings inspired by film. My artwork is often expressionistic in nature and reflects the inner landscape rather than outer reality.
I create pieces that reflect a coming together of many archetypes and scenarios in life both real and imagined. These include images that explore masculine/feminine, gender roles, icons, gods and goddesses, childhood, imaginary landscapes and the role of the divine in our lives.
I am inspired by the diversity and interconnectedness of all that exists in the natural world and our need as humans to connect more deeply with that experience.
My artistic influences have been a diversity of artists and artistic disciplines including:
Chinese and Japanese Brush painting
Kiki Smith
Jean-Michel Basquiat
Keith Haring
Indigenous artists:
Peter Pitseolak
Kenojuack Ashevak
Norval Morriseau
Pudlo Pudlat
Jessie Oonark
Annie Pootoogook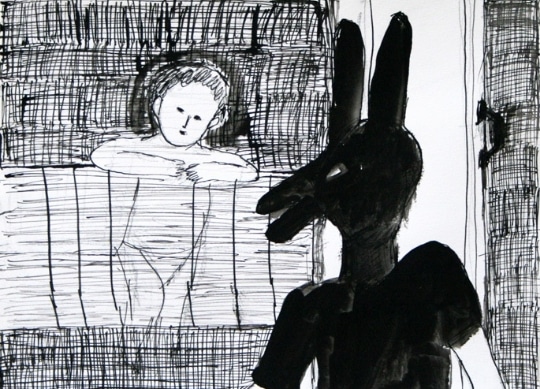 In 2013 Sarah Hunter became President of the K.M. Hunter Charitable Foundation which provides grants to cultural, environmental, and social service agencies and institutions in Ontario.
Sarah's art work has been shown and is owned by people in Upstate New York, Brooklyn, Manhatten, Vermont, Delaware, North Carolina, London England, Toronto, Montreal, Ottawa, Hamilton and Stratford.
Sarah has also been involved in design work, creating t-shirts, tattoos, brochures and teaching collage workshops for various organizations.